Margaret Hewitt Memorial
2013 Charlotte Open
NOVEMBER 8 – 10, 2013
Deadline: Friday, October 25, 2013
Adidas North Carolina Open Regional

Dates: Friday, October 11th, to Sunday, October 13th, 2013
Entry Deadline: October 1, 2013
Venue: North Carolina State University, Raleigh, NC
For more information, please visit: ncopen.org
For questions, please email ncopen.committee@gmail.com
The NC Open will be held at North Carolina State University on Friday, October 11th, to Sunday, October 13th. It will be a 2-star ranking tournament with $8,000 in prize money for all A-level events.
This event is organized by the North Carolina Badminton Club with the assistance of the North Carolina State University Badminton Club.
2014 Graham/Toms U.S. Senior International International
Where: Miami Lakes, Florida, Shula's Hotel and Golf Club
When: January 7-11, 2014
Tournament Director: Bob Cook, frogs4ever@gmail.com
2013 Charlotte Open
Where: Charlotte, North Carolina
When: November 8-10, 2013
Entry Deadline: Midnight, October 26, 2013
Tournament Director: jimg1940@aol.com
Sponsored by Charlotte Badminton Club
2013 ACES Shuttles & Puccini Texas Championship
August 31 – September 1st, 2013
Sponsored by ACES Shuttles and Puccini
Hosted by the Dallas Badminton Club at the UT Arlington Maverick Activity Center
For Registration and Information: Tournament Software
Event Photos: Facebook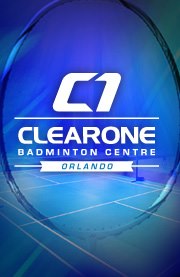 The 2013 Southern Open will be held in Orlando Florida on Saturday August 31 – Sunday September 1st 2013 at the Clearone Badminton Centre.
Visit Tournament Software for updates!
July 6, 2013
Location: Lucky Shoals Park, Norcross, Georgia
Events: Open singles/doubles/mixed doubles, singles/doubles for youth/novice, 40+/50+/60+
Registration deadline: July 1
For registration and more information, see tournament website
ClearOne's first tournament of the new year for Feb 16th and 17th.
The tournament details can be found at
http://www.tournamentsoftware.com/sport/tournament.aspx?id=F937D65A-5D7E-4DB9-873F-0B1F9078BDAE
Due to popular demand we have added the following additional event to be played after the men's and women's doubles events played on Sunday Feb 17th.
    Unisex 80+ Doubles Event (like we had in our September 2012 tournament).
    The event will have the same structure (Levels A,B,C,D) and prizes as the other events.
    A team can be made up of 2 men, or 2 women, or 1 man and 1 woman.
    The combined age of the 2 participants m
ust be 80 or greater.
Also, regarding the Online Registration  -
    If you do not already have a Login Account
        Choose 'sign up' in the upper right corner.
        Enter your personal information – if you were born or raised in a country other than the U.S. feel free to put that country in the country field.
    Proceed with the 'Online Entry'.
    When you get to step 6 'Online Payment' you can click on 'Close' and deal with payment at a later date.